The serious health issues associated with Covid-19 have forced the outstanding foundation specialists Constructora Lancuyen LTDA, to temporarily withdraw from the Edificio Sangers project in Temuco, Chile. Lancuyen have successfully executed 60% of the temporary single bore multiple anchors (SBMAs) used to support a basement excavation in Temuco which is the capital of Cautin Province and the Aruacania region in southern Chile, approximately 416 miles south of Santiago.
The foundation excavation is 45m long x 38m wide x 7m deep and is designed to accommodate a two level basement for a 18 storey building founded on 15m long, 1m diameter piles. The ground conditions are challenging, comprising soft clays with SPT N values less than 5 for depths of up to 20m. Under such conditions the use of the SBMA system provides an optimal solution by efficiently distributing the anchors loads along individual unit lengths within the fixed anchor.
Constructora Lancuyen LTDA are exclusive licensees of the SBMA system in the region, and have acquired a considerable level of expertise in executing the system in difficult ground conditions. Constructora Lancuyen LTDA have prioritised the health and well-being of their dedicated workforce and will only resume work on the project once it is judged safe to do so in accordance with the government advice and company guidelines.
Overview of excavation at Temuco, Chile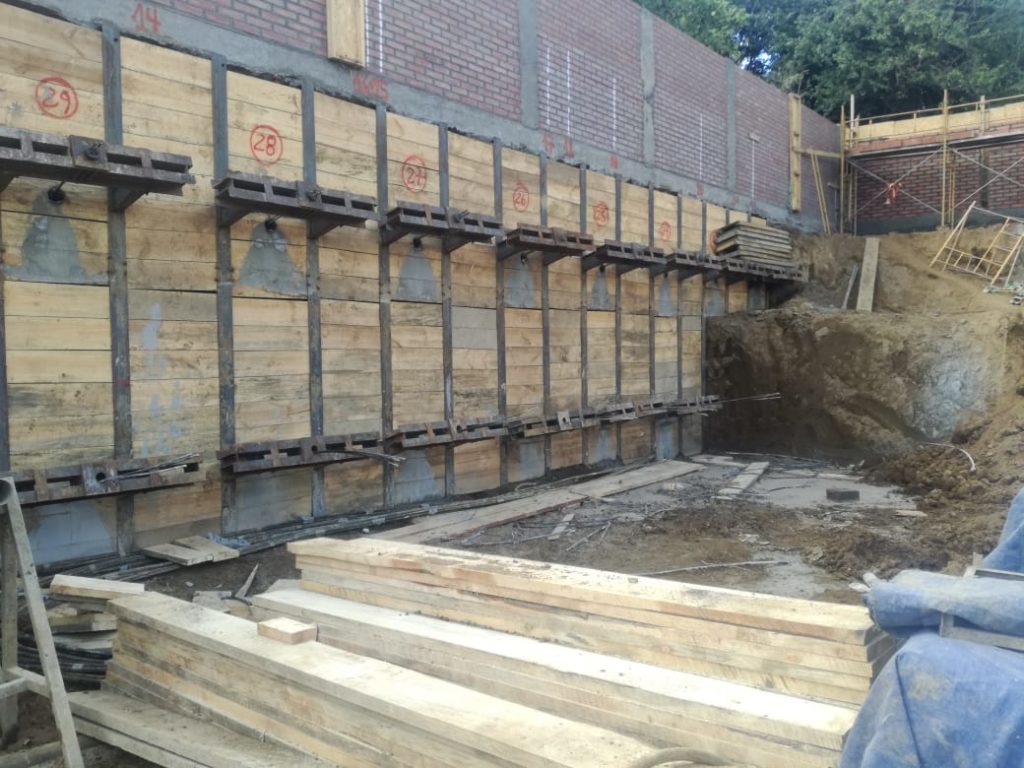 Installation of temporary SBMAs with shoring planks, soldier piles and waling beams