Geoserve Global Ltd in collaboration with SBMA Ltd has successfully secured the contract to provide the technology and consultancy support for the removable anchor systems that will be used for part of the temporary foundation support scheme at the Corniche Tower project site in Abu Dhabi. The anchors will support diaphragm and secant pile walls that will form a 4-basement excavation.  The construction of multi-storey residential buildings will commence after the completion of the basement systems.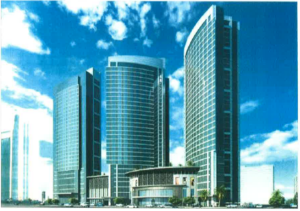 Architect's impression of the Corniche Tower project.
Geoserve Global Ltd and SBMA Ltd will partner with BAUER INTERNATIONAL FZE, the Middle East subsidiary of the German giant Bauer Group. This heralds an important step for all parties and is viewed as the start of a long-term relationship.
Aerial view of the Corniche Tower site during construction.