As Chairman of Working Group 3 (part of the Technical Committee 182), Dr Devon Mothersille convened a meeting of pan European anchor experts to evaluate some 325 comments received on prEN ISO 22477-5 (Geotechnical investigation and testing – Testing of geotechnical structures – Part 5: Testing of grouted anchors). Over a two day period 12 attendees evaluated the comments and scrutinised the draft document, clause by clause. During a very productive and highly technical session considerable progress was made and this was due to the wealth of experience and technical expertise provided by the working group members.
The lunches for the delegates were sponsored by Single Bore Multiple Anchor Limited and the evening meal was sponsored by Dywidag Systems International. Many thanks are also due to Ms Jennifer Harris for her contributions with the administration and real-time editing and collating of information during the discussions.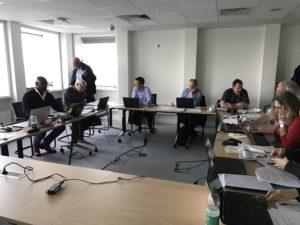 Intense activity during TC 182/WG3 meeting at BSI, London.
From left to right: Dr Devon Mothersille (Chairman), Mr Ole Møller (Denmark), Mr Arne Simonsen (Norway), Mr Chris Irvin (UK), Mr Magnus Ruin (Sweden), Mr Tarmo Tarkkio (Finland), Mr Klaus Dietz (Germany), and Ms Eva Dornecker (Germany). Also attending but not in the photograph were Ms Mariana de Carvalho (Portugal), Mr Yves Legendre (France), Mr Julien Habert (France) and Mr Stefan Wachter (Switzerland). 
Devon Mothersille, Ole Møller and Chris Irvin focus on restructuring clauses of the draft testing standard during the TC 182/WG3 meeting at BSI, London.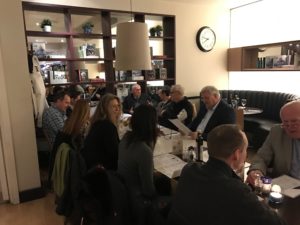 Delegates enjoy food and wine at a local restaurant after a demanding day.