During meetings with Bauer UAE in Abu Dhabi and attendance at the DFI conference in Dubai, Dr Devon Mothersille took the opportunity to visit one of Bauer's impressive construction sites. The project, commissioned by the Dubai Municipality, involved the development of a Deep Tunnel Stormwater System in Dubai's Jebel Ali district. The deep tunnel stormwater system is intended to collect groundwater and stormwater runoff from an area of about 420 square kilometres and convey the captured flows to the sea. Bauer UAE was engaged by main contractor Archirodon Group N.V. and is responsible for the construction of the Main Terminal Pumping Station and Sea outfall which involves major diaphragm wall construction and ground anchor works.
The construction comprised two intersecting circular shafts of 64m and 45m diameter, 60m and 35m deep, respectively.
Mr Mohammed Mounir (Archirondon's Geotechnical Construction Manager), Dr Devon Mothersille and Ms Nikoletta Manousogiannaki (Archirodon's Lead Project Engineer) discuss the project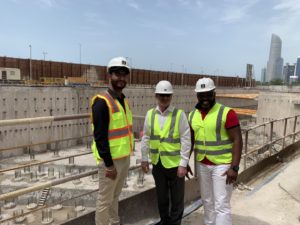 Mr Maninder Singh (Project Manager, Bauer), Mr Farid Mansour (Technical  Director, Bauer) and Dr Devon Mothersille visit the Corniche Towers project in Abu Dhabi to inspect anchors.