Following the successful delivery of the seminars in Dubai and Abu Dhabi, Dr Mothersille visited Bauer's Global Gateway residential development construction site in Abu Dhabi.
The project involves an excavation supported by secant pile walls which are themselves stabilized by an anchored pile cap. Importantly all the anchors on the project (166No.) are removable SBMAs with working loads of 800kN and overall lengths of 18.5m. In order to demonstrate removability of the prestressing strand, the client's representative was invited to witness the removal process.
Three lengths of prestressing strand were successfully removed using a monojack initially and then with an excavator paying due regard to safety during the whole operation.
Enjoy the images of from this site visit
Panoramic perspective of the Global Gateway Development construction site
Use of mono-jack to initiate removal of prestressing strand
Use of excavator to remove prestressing strand from borehole
Dr Mothersille congratulates site foreman Mr Anil Kumar for supervising the safe execution of strand removal
Site technician Mr Farhan Ahmed reviews digitized stressing records on an iPad using AnchorTestTM software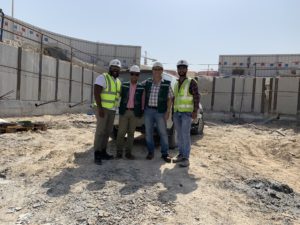 Dr Mothersille is joined by Mr Ahmed Ibrahim (Arcocorp consultants), Mr Sobhi Alkayalli (Lead Development) and Mr Maninder Singh (Project Manager, Bauer) following successful removal of prestressing strand from a borehole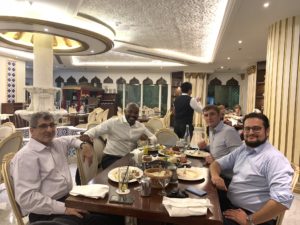 'The Middle East Dream Team', Mr Farid Mansour (Regional Technical Manager, Bauer), Dr Devon Mothersille (Managing Director, SBMA Ltd/ Geoserve Global  Ltd), Mr Marco Vogel (Regional Director, Bauer) and Mr Bora Okumosoglu (Regional Design, Manager, Bauer).