Following the recently established license agreement with Bauer International FZE, SBMA Ltd/Geoserve Global Ltd's Managing Director Dr Devon Mothersille was the invited speaker at a specially arranged half-day seminar held at the Al Maha Arjaan by Rotana hotel in Abu Dhabi on 10th October 2018.
The first part of the seminar covered many aspects of ground anchor technology with particular reference to systems specifically designed to generate high capacities in soils and weak rocks. This part also included sections on the current status of Eurocodes with respect to anchors, new innovations and recent developments. In the second part Dr Mothersille presented several examples of international ground anchor applications and then described two pivotal case histories that demonstrated a number of world firsts.
The audience included engineers and municipality representatives who engaged in  useful Q & A sessions during and at the end of the seminar.
Dr Mothersille wishes to thank Mr Farid Mansour (Regional Technical Manager, Bauer) and Mr Bora Okumusoglu (Regional Design Manager, Bauer) who joined him and delivered short presentations covering the history of Bauer and local projects incorporating anchored excavation support.
Enjoy images from the seminar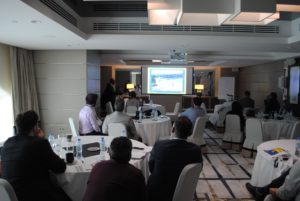 Dr Devon Mothersille addresses the audience at the Bauer International FZE hosted seminar Abu Dhabi
Dr Devon Mothersille handles questions from design engineers who attended the seminar
Dr Devon Mothersille uses a flip chart to illustrate the restoration of the grout curtain at Hazelmere dam, South Africa