The world's largest stressing jack applicable to post-tensioning of ground anchors, has been used to stress and test a 91 strand anchor at Hazelmere dam. Devon Mothersille successfully supervised specialist anchor contractor through the sequence of cyclic loading and unloading to a proof load of 19041kN.  AnchorTestTM software was used throughout the testing process to provide real-time feedback on the anchor's performance during testing.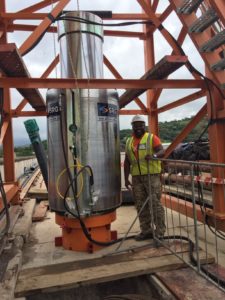 Devon Mothersille stand next to the 22MN capacity stressing jack, with a 1000mm stroke and weigh in at 9.95 tonnes.
SRG site engineer Vutshila Mkhatshwa uses a 0.5mm graduated steel metre ruler to measure intermediate ram extensions.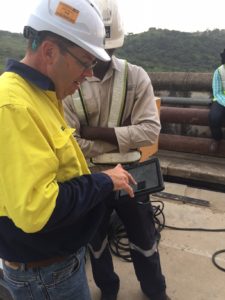 The specialist anchor contractor discusses the real-time data output from the tablet based software AnchorTestTM